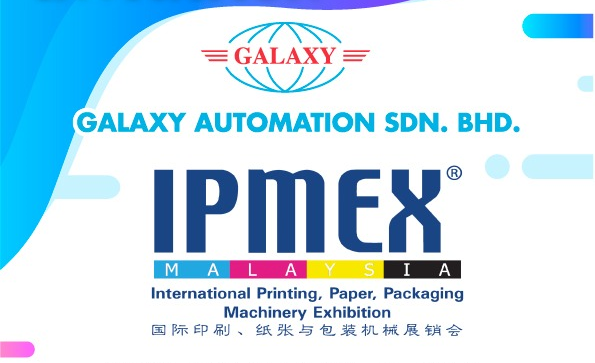 Galaxy Automation Sdn Bhd has been invited to participate as an exhibitor in the International Printing, Paper, Packaging Machinery Exhibition (IPMEX) 2022 organized by Kaizer Exhibitions & Conferences Sdn Bhd At Kuala Lumpur – Malaysia International Trade and Exhibition Centre (MITEC), it is 4 days event for presenting latest technologies for varied print applications like advance digital printing & imaging technology, conventional. printing with digital enhancements, advertising sign & equipments.
Galaxy took the opportunity to showcase Duplo Digital Spot UV, Duplo Booklet System, Duplo Multipurposes Cutter/Slitter, Goccopro Digital Screen Maker, RISO ComColor GD Series, & RISO ComColor FT Series.
The topics covered are DC-618 which has a full-bleed finish with the ability to perform up to 6 slits, 30 cuts, and 20 creases in a single pass. It produces applications such as business cards, postcards, brochures, and book covers. Processing speed has been boosted from 10 to 23 sheets per minute and paper weight specifications have increased from 350 to 400 gsm.
While the DDC-810 utilizes inkjet technology and gives images depth and raised textures with a gloss varnish. It features a CCD camera recognition system ensuring image-to-image registration and PC Controller software. The DDC-810 is designed for short-run applications. It can process up to 21 sheets per minute (A3) and paper weights from 157 to 450 gsm (coated paper).
Other than that, the Duplo DF-870 Tabletop Paper Folding Machine is the fastest table top folding solution in its category, with a top speed of 241 sheets per minute. Twice as fast as its predecessors and easy-to-use, this table top folder is efficient and productive saving you time and money.
Moreover, the DBM-150 is a highly versatile booklet maker capable of standalone/hand-fed operation or connection to a choice of friction or suction collators. The operating speed is up to 2,400 booklets per hour and most of the setup is automatic making. This is a perfect machine for short run booklet production.
Next, Riso Dry Thermal Screen Making System is set to become the new screen printing standard. No emulsion, dark room or film positives required. There's no need, either, for light exposure processing or wash out. With its low power consumption and producing no waste water.
We have ComColor GD printers feature high-speed inkjet printing technology designed to prevent paper curl and reduce paper jams typically experienced from traditional toner-based printers. With a ComColor GD, your customer communications can be sent immediately to mail finishing equipment, which vastly reduces production times and improves the speed of sending your critical customer communications.
Also ComColor FT Series inkjet printers offer the complete package of industry-leading environmental friendliness and productivity, cost performance, and amazing functionality. And attaching the optional accessories available further enhances productivity and convenience. They're ideal high-speed, full-color printing solutions for all sizes and scales of operations, from small offices to in-plant applications.
Lastly "RISO ART" means art works created using the RISO products collectively. The art works are created using the high-speed digital printer "Risograph" in which traditional stencil printing principles and original RISO technology are combined and the digital screen maker "GOCCOPRO".