Description
Duplo Digital Spot UV Coater DDC-810
Get creative with the creative. Adding embellishments to printed designs helps tell a brand's story, enhances their visual identity, and differentiates them from the competition.
The compact Duplo Digital Spot UV Coater DDC-810 provides the quality of digital embossing you expect from a professional Spot UV printer. By utilising Duplo's proven feeding technologies and Windows based GUI, setup times are limited and the first sheet printed is sellable. The 600dpi inkjet heads enable you to digitally embellish a huge variety of printed applications such as brochures, business cards, greetings cards, invitation, certificates, the list is endless.
High Definition 600dpi inkjet heads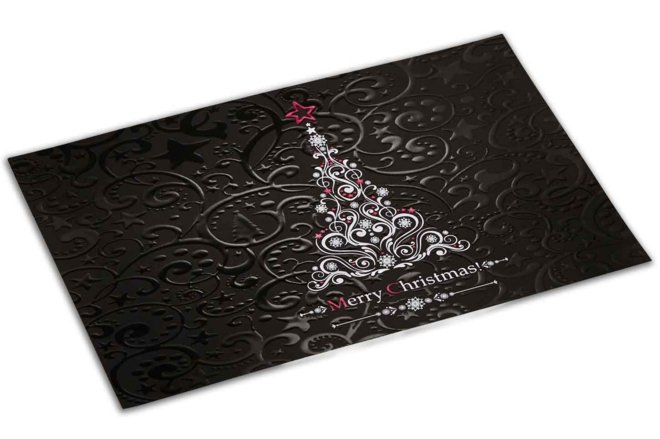 Produce high definition images from PDF or TIFF format files, using gray scale images to create textured printing of variable density, ranging from 20 to 80 micron thickness, all in just one pass. This technology enables the combination of heavy solids and fine detail in the same image as well as smooth curves and detailing in beautiful fine lines, down to 5 point fonts.
Image register mark ensures UV alignment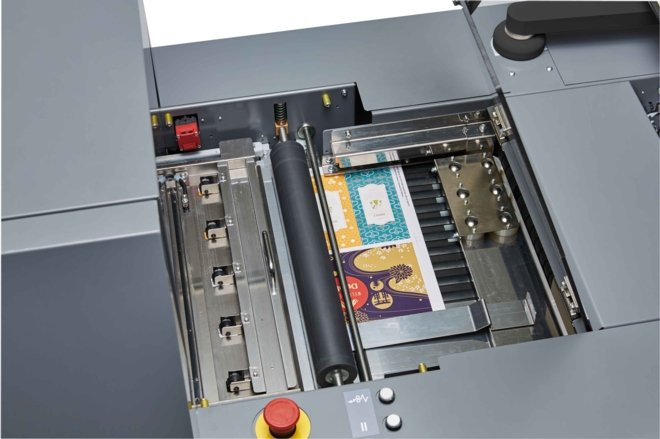 Twin cameras and the Duplo IRM (Image Register Mark) ensure alignment precision, within 0.2mm accuracy along the entire sheet length. With an automatic set-up and adjustment for every sheet, extending from XY image shift to stretch, skew (rotation) and twist (distortion) that are particularly common after laminating. This is all performed in real-time, allowing the operator to concentrate on other tasks.
Supports maximum sheet size of 364 x 740mm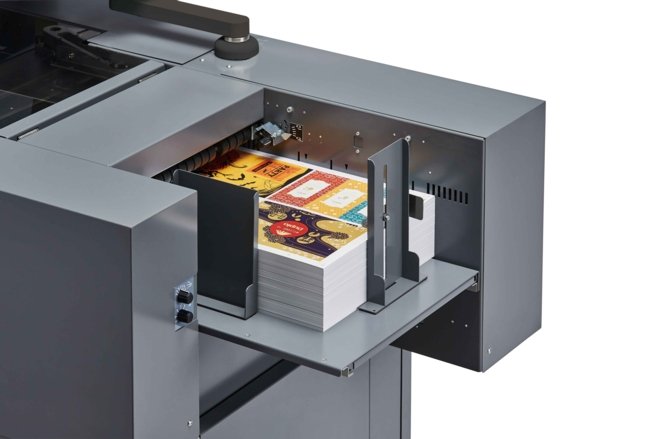 The Duplo Digital Spot UV Coater DDC-810 supports a sheet size of 364 x 740mm, making it compatible with any "SRA3" format digital production press, or even a B2 sheet cut lengthways. Running at a healthy 1080 x SRA3/B3 sheets an hour, means that the DuSense has the functionality to run 600 sheets of 250gsm, in 30 minutes of unattended operation.
KEY FEATURES
Add print embellishments with spot coating, texture and tactile effects
Process offset and digitally printed output up to 364mm x 740mm
Inkjet technology with UV lamp for instant curing
Accurate image registration
Compact footprint
KEY APPLICATIONS
Business cards
Custom packaging
Book covers
Greeting cards
Magazine covers
Labels and adhesives
Invitations
Food menu
Posters
Brochures