Description
PR Series
Odor control is a concern for most of the spaces in which we live and work.  Protect your family or employees' health by purifying the air they breathe with the PR Series. PR Series is a family of portable air and surface cleaning systems. With multiple proven technologies, the BioZone PR series cleans your air and safeguard your health. Chemical-free air and surface disinfection is friendly to the environment, creates a pleasant experience, and promotes hygiene continuously, 24/7. Certified BioZone products are used worldwide for odor control and to enhance and cleanse living spaces of all kinds.
The BioZone PR series channels air through an inner chamber, where it is bathed by ultraviolet light. Fresh, sanitized air is returned to the room. The UV light reacts naturally with the air, producing purifying plasma which destroys bacteria, viruses, fungi, yeast, mold, algae, and other harmful microorganisms. The unique features of BioZone is that the Air does not need to pass through the BioZone PR unit in order to be purified.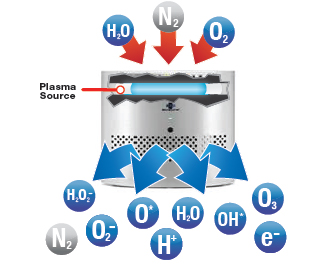 How does PR work?
Ultraviolet light, ozone, photoplasma, and negatively-charged ions exists in Nature as powerful and effective disinfectants, perfectly designed to destroy odors, bacteria, viruses, mold, and mildew, and to break down unwanted chemicals and compounds.
UV light is powerful enough to penetrate the cell walls of bacteria and viruses, shattering their DNA, making it impossible for them to grow and reproduce.
Negatively-charged ions attract and bind with contaminants in the air, weighing them down.
Photoplasma oxidizes and sanitizes
Photo-catalytic oxidation break down pollutants (including nicotine, urea, and ammonia)
To ensure the highest possible level of health and safety for our users, and to act as responsible stewards of the environment, BioZone has achieved CE and UL certifications for PR. Additionally, PR is certified with SGS, one of the leading certification institutes in the world. SGS has acknowledged GS, SGS FI certifications for the BioZone PR product. This certification demonstrates that PR fulfills the requirements for harmonized EN and IEC standards.
PRODUCT ADVANTAGES
Each unit has a small, space-saving design footprint, making it ideal for portable needs or fixed locations.
Completely automated and chemical-free
Truly plug-and-play: does not use consumables, such as batteries, filters, or  fragrance dispensers
Maintenance free – requires simple UV lamp replacement
Built-in timer and adjustable fan speed
Simple to install on a standard wall plug
Remote controlled within a range of 6 meters
Neutralize any odor. Eliminate odors from cigar and cigarette smoke, biological pollutants, mold, and other toxic gases.
Kill airborne and surface bacteria.
Perfect for kindergarten, nursery, offices, homes, healthcare facilities, veterinarian's offices, and hotel rooms.