Description
Duplo 150C Short Run Collator Booklet Making System
Duplo 150C Collator Booklet System is a uniquely compact and highly productive system. It is the perfect solution for fully automatic collating and booklet making. The Duplo 150C Collator Booklet System can incorporate up to 2 units of Duplo DSC-10/20 towers in-line with the Duplo DBM-150 bookletmaker and trimmer. Utilizing Duplo's proven suction feed system, the Duplo DSC-10/20 allows for gentle handling of a wide range of applications not possible with friction feed collators. Each bin comes equipped with two adjustable fans for consistent and accurate feeding while a large pickup area of the belt suction feed system ensures that even slick coated, curled, and high static digital documents are fed consistently.
Equipped with the Isaberg Rapid stapler and staple cartridge, the Duplo DBM-150 Bookletmaker produces a high quality, flat staple every time. Each cartridge holds 5,000 staples and wear parts are replaced each time the cartridge is changed out, providing a high level of reliability. Up to 16 jobs can be saved in memory for quick and easy changeovers. Compact in size and built-in with high performance features, the Duplo 150C Collator Booklet System produces high quality corner, side, or saddle-stapled applications up to 2,400 booklets per hour. This system is extremely user-friendly and is ideal for processing low to mid volume jobs effectively and efficiently. It is designed to meet the challenges of today's offset and digital printer.
Superior Feeding Duplo DSC-10/20 Suction Collator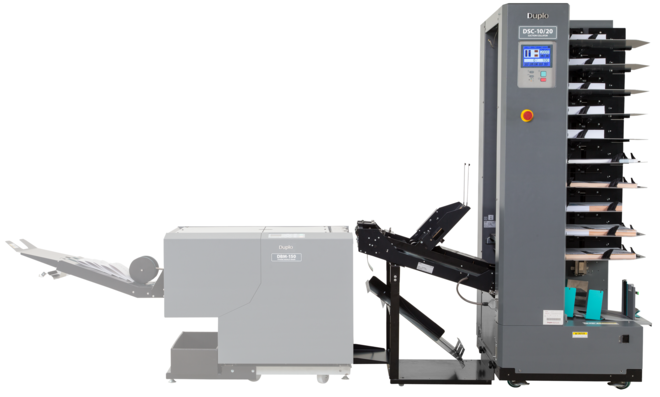 The Duplo DSC-10/20 suction collators have built-in resilience, with a dual-fan technology and air management system that can be fine-tuned for each independent bin. One fan in each bin provides even air separation, while a second generates a vacuum for the belt suction feeder, ensuring that sheet feeding is efficient and reliable.
Automatic Setup Duplo DBM-150 Staple Unit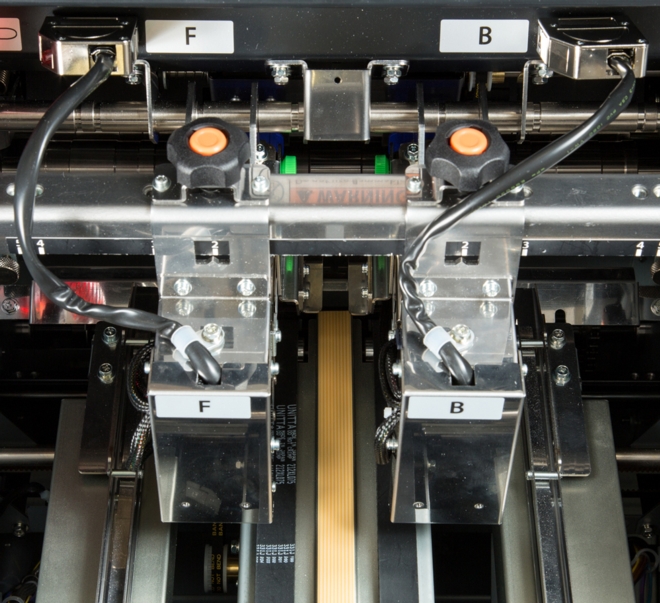 Get the next job ready quickly: there's no need for manual adjustment of guides and trimming positions – just select the booklet size you require on the control panel and set up is automatic. Operators can adjust the stapling position manually if required.
User-friendly Duplo DSC-10/20 Control panel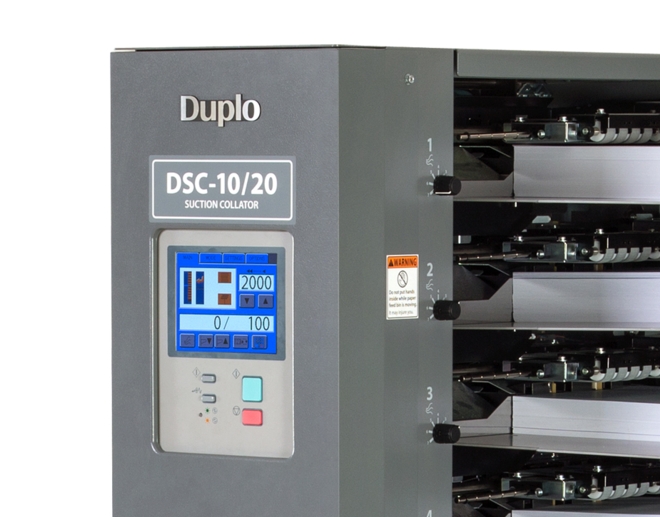 Just four simple steps are required to set up jobs using the control panels on the Duplo DBM-150 and collator towers, both of which are extremely easy to use, requiring very little training.
Finishing Process

KEY FEATURES
Ideal for short run demands
Configures up to two DSC-10/20 Collators
Produces up to 2,400 booklets per hour
Collates up to 7,200 sets per hour
Reliable Isaberg Rapid stapler and staple cartridge
16-job memory and compact design