Description
Duplo 350 Digital Booklet Making System
The Duplo 350 Digital Booklet System connects the Duplo DSF-2200 Sheet Feeder with the Duplo DBM-350 Bookletmaker, creating the perfect mid-volume digital finishing solution. The DSF-2200 comes loaded with a number of high-end features including Duplo's own belt suction feed system, front and side air separation, an anti-static device and ultrasonic double feed detection for enhanced feed reliability. It feeds increased paper sizes up to 320mm x 460mm and up to 200 sheets per minute and offers a variety of options including a trail edge air kit, pre-loading kit, and 1D & 2D barcode readers.
Using the PC Controller software for easy operation, heavy-duty Deluxe stitching heads to produce quality stitches, push belt technology to prevent marking and static build-up, and a built-in book spine compressor, the Duplo 350 Digital Booklet System can produce up to 3,000 high quality booklets per hour. Expand the flexibility, versatility, and range of the system by adding the optional corner stitch kit or small booklet kit.
Aimed specifically at the mid-range digital print market, the Duplo 350 Digital Booklet System is cost-effective and able to support your business through its ability to handle a wide range of applications, including complex jobs with variable paper stock weights and types.
Automatic Setup User Friendly PC Controller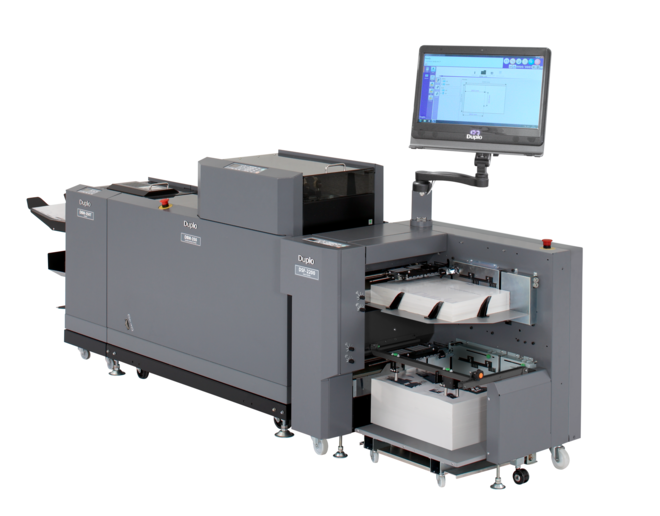 Via the PC Controller, jobs can be recalled or set up, shaving significant time off of makeready through fully automatic operation. A wide variety of standard and custom sizes up to 20 sheets are at your fingertips, quickly and easily.
Security and Integrity: Barcode Reader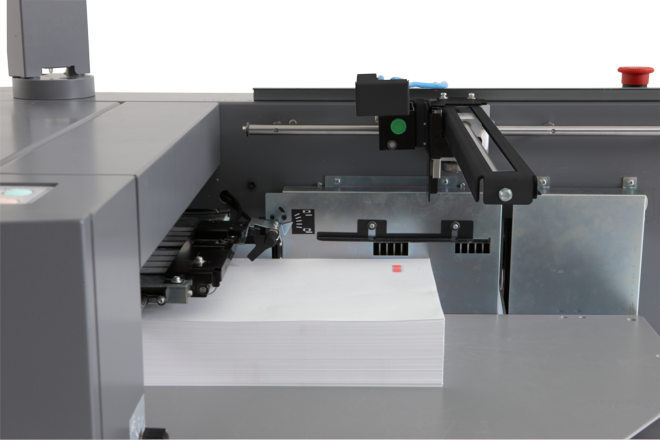 Make sure that personalised jobs and those with variable numbers of pages match up, using the Duplo 350 Digital Booklet System's integrated camera system for reading 1D and 2D barcodes.
Collated Set Sheet Feeding with Duplo DSF-2200 Sheet Feeder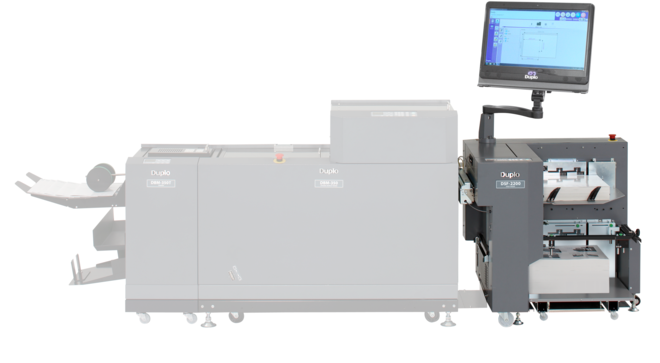 Merging cover pages with pre-collated main content pages becomes a simple task using the two paper feed trays in the Duplo DSF-2200 Sheet Feeder. No matter if the covers have been printed offset, digital, UV coated or laminated, the Duplo 350 Digital Booklet System can match them with inner pages quickly and efficiently.
Finishing Process

KEY FEATURES
Ideal for mid-production printers
Accepts output from multiple printers
Converts pre-collated sets into finished booklets
Belt suction feeding with front and side air separation
Built-in ultrasonic double feed detection and anti-static device
PC Controller software for easy job setup
Integrated Book Spine Compressor
Heavy-duty Deluxe 26D Stitcher Heads
Sheet feeding up to 200 sheets per minute
Support up to 300 gsm
Bin capacity up to 200mm height
Produce up to 3,000 booklets per hour