Description
Duplo DFC 101/ DFC 120 Table Top Friction Collator
The 10-bin Duplo DFC-101 vertical friction collator is capable of collating 7,200 sets per hour while the 12-bin Duplo DFC-120 vertical friction collator is able to collate up to 4,200 sets per hour.
The 10-bin Duplo DFC-101 and 12 bin Duplo DFC-120 is a compact and easy to use collator. Equipped with three feed rollers and adjustable paper separators, the Duplo DFC series provides reliable and consistent feeding of a wide variety of fine quality, uncoated papers up to 128 gsm.
Double feed and mis-feed detections help ensure the accuracy of the collated set. Collated sets are delivered to the integrated stacker and can be straight or offset stacked. The integrated stacker holds up to 80mm.
The four collating methods (normal, interleave, block mode and alternative) provide the flexibility to more effectively utilize the feed bins to perform a variety of collating applications. New counting modes (counting mode 1 and 2) enable the Duplo DFC series to be utilized as a sheet counter. The number of processed sheets is displayed on the LCD display. Other features include count up/count down, repeat collation, test feed, paper empty detection, paper jam detection and stacker full detection. With the 12 bin Duplo DFC 120, calendar collation can be completed in 1 process without the need of manual combine unlike the conventional 10 bin collator.
Reliable Paper Handling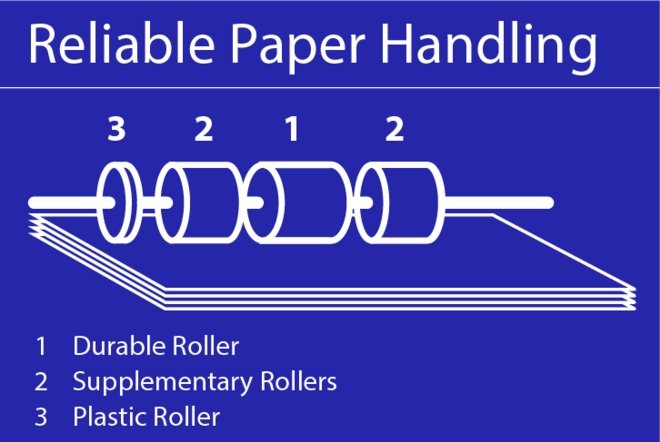 Sheet delivery is consistent thanks to the three friction wheels on the Duplo DFC series collator, allowing various papers from bond, NCR, light card, folded sheets and some coated stocks. Separator and tray pressures on each bin can be individually controlled, so thick and thin paper can be reliably fed from the same collator.
KEY FEATURES
Ideal for short run demands
Configures either 10 bin (Duplo DFC-101) or 12 bin (Duplo DFC-120)
Collates up to 7,200 sets per hour (Duplo DFC-101)
Collates up to 4,200 sets per hour (Duplo DFC-120)
4 collating methods (normal, interleave, block, and alternative)
Paper weight up to from 64 gsm to 128 gsm