Description
Kobra 430TS
Designed for large shredding throughput and continuous shredding operations. Convenient conveyor belt for easy feeding of material to shred: can shred up to 65 sheets of paper at a time, Kobra 430 TS shreds also cds, dvds, Credit cards, floppy-disks.
Equipped with "Super Potential Power Unit": heavy duty chain drive system with steel gears. Carbon hardened cutting knives, unaffected by staples and metal clips. High precision design of cutting knives allows high shred loads with low power consumption. Motor thermal protection. 24 hours continuous duty motor: no duty cycle or timed cool down period.
Kobra 430 TS comes with an integrated automatic oiling system that ensures maximum efficiency.
Automatic stop with light signal for waste container full or cabinet door open. Removable and sturdy 470 litres waste container mounted on casters.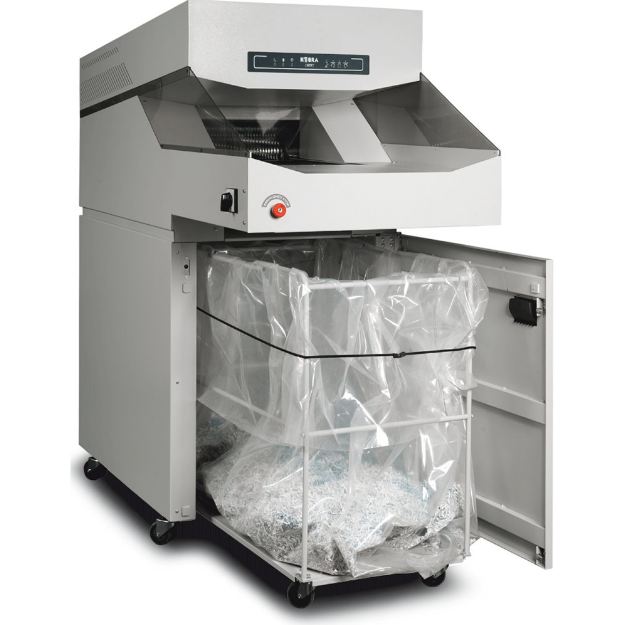 PRODUCT ADVANTAGES
24 hour continuous duty operation without overheating and duty cycles
Heavy duty chain drive with steel gears
Carbon hardened steel cutting knives
Clearly show the current status of the machine
All controls are activated by simply touching the panel
Automatic stop for bag full or open door
Integrated oiler to lubricate the cutting knives
Automatic reverse in case of jamming the disposal bag