Description
Duplo DC-516 Production High Speed Multi Finisher
The Duplo DC-516 Production High Speed Multi Finisher offers high-speed finishing for high production environments. Automatically cut 24-up business cards on 13" x 19" sheets or 36-up cards on 14" x 20" stock within seconds. The Duplo DC-516 comes standard with both cutting and slitting modules and can apply up to 30 cuts per sheet. The slitting module includes 6 tools and up to 10 slits can be applied (additional 4 slits optional). Slitting tools are manually adjusted and cuts are set through the control panel.
The Duplo DC-516 Pro Multi-Finisher offers high-speed finishing for high production environments. Featuring a 360mm high capacity feeder, the Duplo DC-516 keeps productivity non-stop. The Duplo DC-516 High Speed Creaser prevents toner cracking and unattractive fold lines on digitally printed applications up to 100 sheets per minute. The Duplo DC-516's creasing module features a new dual creasing tool that can be switched interchangeably to perform positive and negative patterns. To perform positive and negative creases in one pass, a second creasing module is required. Each module applies up to 20 creases per sheet.
Fast and easy to use, the Duplo DC-516 is ideal for creasing brochures, greeting cards and book covers for perfect binding. The ability to finish completely different jobs with efficiency and consistency, makes it the ideal companion for demanding digital print environments.
High Capacity, Air Suction Feed System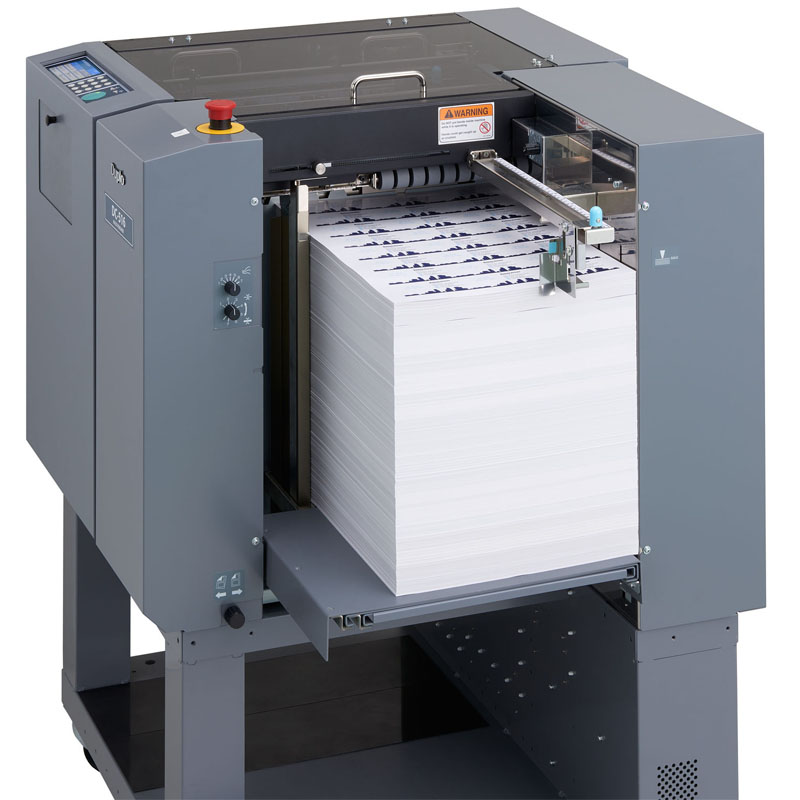 With a 360mm feed capacity, the largest in the DC series,operators can maintain productivity throughout the job. Utilizing Duplo's widely renowned air suction feeder, the Duplo DC-516 comes equipped with an 8-belt feed system that feeds from the top of the stack to reduce scuffing and marking on the sheets. It comes with side air, an air knife, and an ultrasonic sensor for increased feed consistency. The air knife reduces static by providing additional air flow to the stack. The ultrasonic sensor detects when two or more sheets have been fed, automatically stopping the unit. Load the papers, press start and walk away.
Interchangeable Module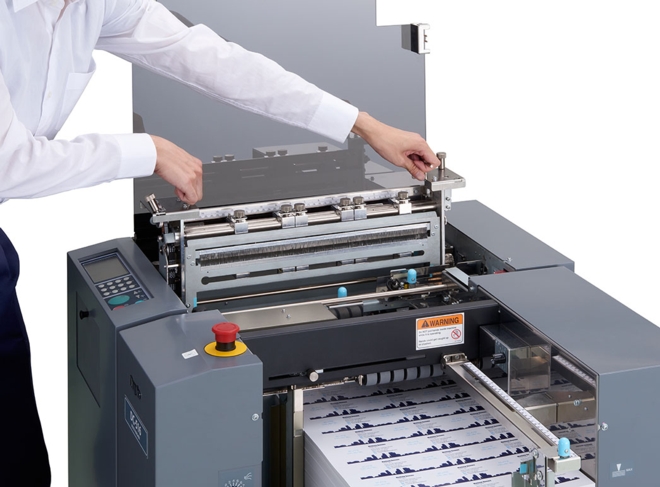 Streamline and load balance your workflow for other applications by inserting different inter-changable modules into the Duplo DC-516, and confidently meet your deadlines. The optional tools include 10 slit, perforations, micro perforations, scores, slit-scores, and jump/strike perforations
Image registration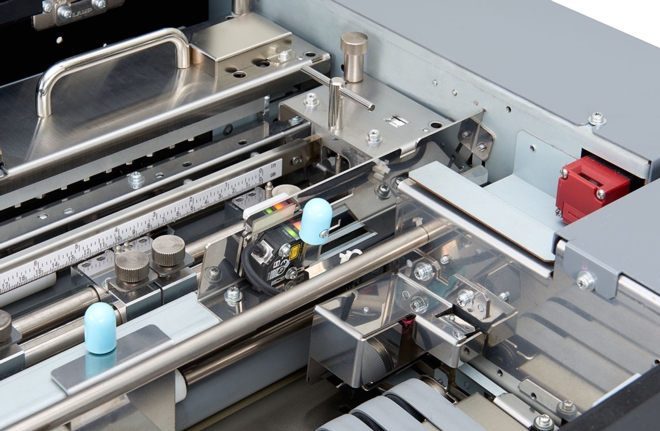 Duplo's image registration technology reads the registration mark on the printed sheet and makes fines adjustment to avoid any image shift that may have occurred during the print process.
KEY FEATURES
Maximum paper size up to 370mm x 1,000mm
Support paper weight from 110 gsm to 400 gsm
Up to 10 slitter with optional tools
Maximum speed up to 100 sheets per minute
360mm feeding stacker capacity
Built-in CCD scanner for job recall with barcode
Built-in Side Air and Air Knive to reduce paper static
Built-in Ultra Sonic Detection to improve paper feeding
Automatic image shift correction
Optional Rotary and Cross Tool
Perforating*
Micro-perforating*
Slit Score and Scoring*
Jump/Strike perforating (Width or Length of paper)
* Requires optional tools