Description
Duplo DSC 10/20 Floor Model Suction Collator
Duplo DSC 10/20 suction is a mid range suction collator. Creating a perfect combination for productivity, value, and durability, the Duplo DSC-10/20 air suction paper collators can connect up to a maximum of 2 towers forming a 20 bin belt suction collator.
Utilizing Duplo's proven suction feed system, the Duplo DSC-10/20 allows for gentle handling of a wide range of applications not possible with friction feed collators. Each bin comes equipped with two adjustable fans for consistent and accurate feeding while a large pickup area of the belt suction feed system ensures that even slick coated, curled, and high static digital prints are fed consistently.
Superior Feeding Duplo DSC-10/20 Suction Collator
The Duplo DSC-10/20 suction collators have built-in resilience, with a dual-fan technology and air management system that can be fine-tuned for each independent bin. One fan in each bin provides even air separation, while a second generates a vacuum for the belt suction feeder, ensuring that sheet feeding is efficient and reliable.
User-friendly Duplo DSC-10/20 Control panel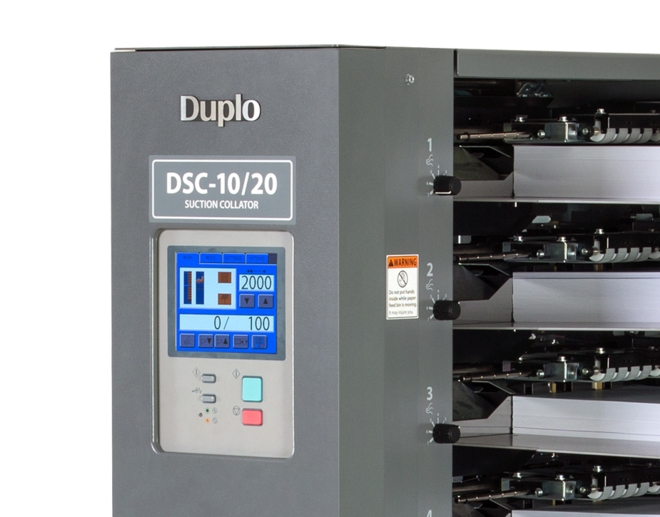 Just four simple steps are required to set up jobs using the control panels on the Duplo DSC10/20 and collator towers, both of which are extremely easy to use, requiring very little training.
KEY FEATURES
Up to 20 bins with twin tower configurations
Collate up to 7,200 sets per hour
Intuitive Color LCD touch panel
No AIR COMPRESSOR needed
Unique belt suction feeding system
Up to 157 gsm paper weight
Multiple collation mode such as block mode