Description
Duplo 150 Digital Booklet Making System
The Duplo 150 Digital Booklet System is Duplo's entry-level sheet feeding system connecting the DSF-2200 Sheet Feeder with the Duplo DBM-150 Bookletmaker. The Duplo DSF-2200 comes loaded with a number of high-end features including Duplo's own belt suction feed system, front and side air separation, an anti-static device and ultrasonic double feed detection for enhanced feed reliability. It feeds up to 200 sheets per minute and offers a variety of options including a trail edge air kit, pre-loading kit, and 1D & 2D barcode readers.
Featuring the Isaberg Rapid stapler and staple cartridge, the Duplo DBM-150 Bookletmaker produces a high quality, flat staple every time. Each cartridge holds 5,000 staples and wear parts are replaced each time the cartridge is changed out, providing a high level of reliability. The Duplo DBM-150 Bookletmaker can be operated via the control panel where up to 16 jobs can be saved in memory or via a PC using the optional PC Controller software.
Compact in size yet built-in with high performance features, the 150 Digital Booklet System produces superior corner, side or saddle-stapled applications up to 2,400 booklets per hour. Designed to accept printed output from multiple sources, the system is ideally suited as a near-line solution to the needs of today's digital printer.
Automated Precision User-friendly PC controller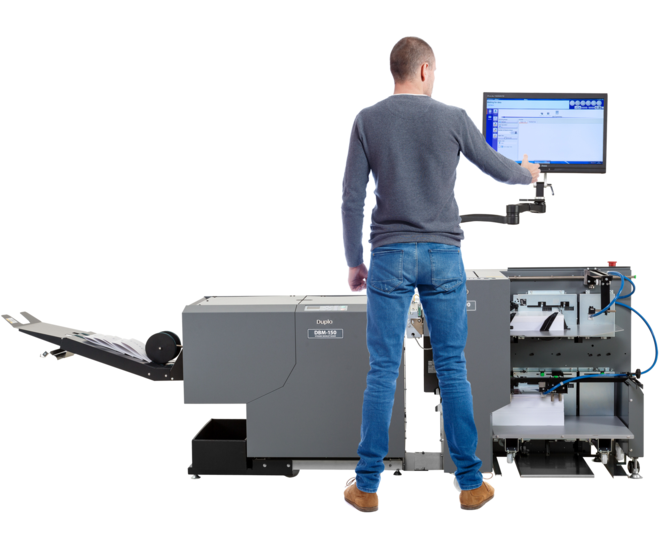 Set up for jobs is automatic via the dedicated PC Controller. Operators can store and recall regular jobs and changeover without needing any tools. Where jobs include different paper weights, these are easily handled due to the Duplo DSF-2200 sheet feeder's Ultrasonic Sensor technology, which detects double sheet feeds.
Integrity and security. Barcode reading on sheet feeder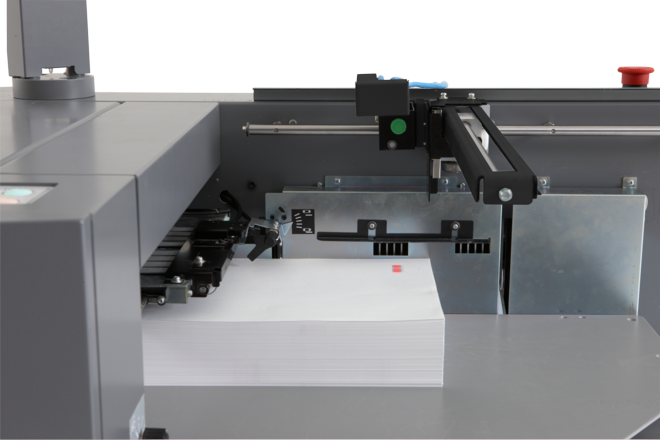 A critical feature for personalised and variable data print jobs is the barcode reading capability of the Duplo 150 Digital Booklet System. It has Optical Mark Recognition and an optional Barcode Kit that provides two readers for each tray on the Duplo DSF-2200 feeder to ensure accuracy and integrity in data-driven applications.
Superior Feeding System. Duplo DSF-2200 sheet feeder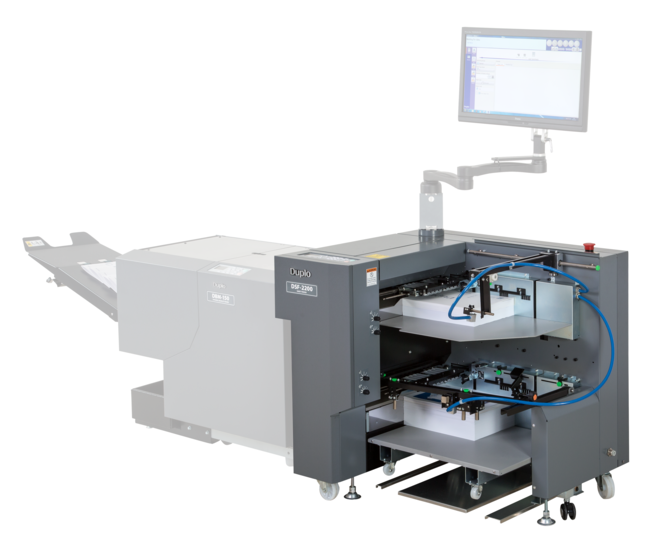 Work with difficult paper stocks and be certain of optimum paper feeding reliability, thanks to the Duplo DSF-2200 sheet feeder's 8-belt feeding mechanism and three individual DC fans on each bin. These provide suction for feeding plus both front and side air to separate the sheets, all controlled by the operator.
Finishing Process

KEY FEATURES
Suitable for short volume demands
Accepts output from multiple printers
Converts pre-collated sets into finished booklets
Belt suction feeding with front and side air separation
Built-in ultrasonic double feed detection and anti-static device
Isaberg Rapid stapler and staple cartridge
16-job memory and compact design
Sheet feeding up to 200 sheets per minute
Support up to 300 gsm
Bin capacity up to 200mm height
Produce up to 2,400 booklets per hour